New Kid Nepro Releases
December 10th, 2009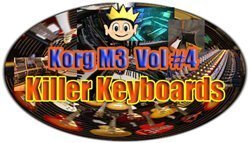 Korg M3 Volume #4 – Killer Keyboards ($30. USD) – Our fourth collection of sounds for the Korg M3 Workstations is now available. An amazing assortment of fully KARMA-fied Programs & Combis perfect for Producers and Keyboard Players looking for some great new keyboard sounds to add to their M3.
Killer Keyboards includes 32 New Programs – 16 New Combis and 5 New Rhodes Multi Samples. No memory expansion is needed in order load Killer Keyboards or any or our four M3 collections. Check out the audio demos at our Killer Keyboards page for a taste of what you can do with these great new sounds.
SPECIAL BUNDLE PACK Get all four of our incredible M3 collections for only $200. The most complete sound library available for the M3 – weighing in at: 256 Programs, 192 Combis, 5 Drum Kits and over 200 Megs of new samples. Get the complete package of Proto Rock 1.4, Soundtrack Mix, Hit Factory and Killer Keyboards for the special low price of $200. USD – A $35. savings.
More info on Killer Keyboards and all our M3 sounds can be found at: Our Main M3 Page.
Leave a Reply