New Kid Nepro Releases
February 5th, 2010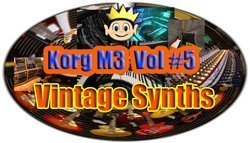 Korg M3 Volume #5 – Vintage Synths – Our fifth collection of sounds for the Korg M3 Workstations is now available!
Kid Nepro's Vintage Synth collection for the Korg M3 is the closest thing that you can get to a real analog synthesizer. Programmer Steve Proto has now tapped into his collection of classic synthesizers and has sampled three of the best analog synthesizers ever made – The Moog Mini Moog, Roland Super Jupiter AKA: MKS80 and the Sequential Circuits Prophet VS. Also included in the collection are six new multi samples from Korg's MOSS virtual analog expansion board that is so popular with owners of the Korg Triton and Karma workstations.
All in all there are 32 programs, 16 combis and 32 new multi samples with a wide assortment of classic analog basses and lead sounds that have that vintage analog sound that many musicians pay big bucks for – now at a fraction of the cost – only $30. USD.
More info & demos "CLICK HERE"
Leave a Reply