New Kid Nepro Releases
August 23rd, 2009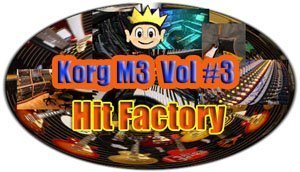 Korg M3 Volume #3 – Hit Factory – Our third collection of sounds for the Korg M3 Workstations is now available. An amazing mix of fully KARMA-fied Programs & Combis perfect for Producers and Keyboard Players Creating Hip Hop, R&B, Techno, Rave, Trance, Industrial & Dance Tracks.
64 Programs, 32 Combis, FIVE NEW DRUM KITS and 380 NEW SAMPLES that are guaranteed to get your head noddin with some of the coolest beats found anywhere.
More info and demos "CLICK HERE"
One Response to "Hit Factory – New Sounds For Korg M3 Now Available"
MichaelS Says:
October 4th, 2009 at 4:44 pm

Hi, Don't know if you can help but, frequently there will be a specific sound in a song that I would like to replicate. For example the synth opening to Dakota (sterophonics) or the 80's synth sound in Love Machine (Girls aloud). And it takes me an age to get anywhere close at times. Is this somethihng you can help me with or if not, perhaps point me in the right direction?
Leave a Reply