New Kid Nepro Releases
April 29th, 2010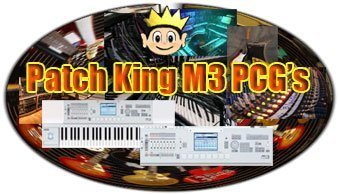 SPECIAL M3 SOUND BUNDLE PACK: Get all five of our incredible M3 collections for only $175. The most complete sound library anywhere now available for the Korg M3 – weighing in at: 290 Programs, 208 Combis, 5 Drum Kits and over 250 Megs of New Samples! Get the complete package of Proto Rock 1.4, Soundtrack Mix, Hit Factory, Killer Keyboards & Vintage Synths for the special low price of $175. USD – A $60. savings.
More info on all our M3 sounds can be found at: Our Main M3 Page.
One Response to "Korg M3 Sound Bundle Pack"
Garret Sutter Says:
September 28th, 2011 at 11:20 pm

Hello there just happened upon your website via Yahoo after I entered in, "kidnepro.com » Blog Archive » Korg M3 Sound Bundle Pack" or perhaps something similar (can't quite remember exactly). In any case, I'm pleased I found it simply because your subject material is exactly what I'm searching for (writing a college paper) and I hope you don't mind if I collect some material from here and I will of course credit you as the source. Thank you very much.
Leave a Reply