New Kid Nepro Releases
September 19th, 2016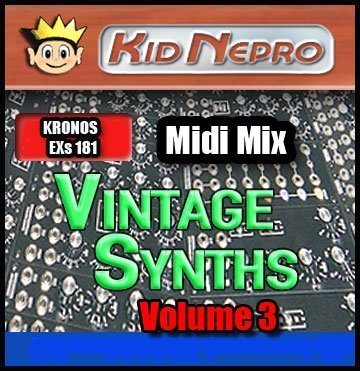 New Release For Korg Kronos – Vintage Synths V3 – Midi Mix
Kid Nepro has just released Volume 12 for the Korg Kronos Series. Sounds are compatible with the original Kronos, Kronos X and Kronos 2 workstations.
64 Programs – 16 Combis – 500 MB New Multi Samples – $69. USD
The Patch King has now made available an amazing collection of sounds from our custom sample libraries for the Kronos HD-1 sound engine. Midi Mix includes only the finest mix of analog and digital synth sounds all set up and ready to load into your Kronos.
Something wonderful happens when you combine the warmth of a vintage analog synth to the clean digital sound and multi effects of a modern workstation. Midi Mix contains samples from over twenty of the best synthesizers released over the past three decades. All sounds are sampled from Kid Nepro's custom made sound libraries and then layered together to create totally unique textures and super fat sounds!
MORE INFO & DEMOS
https://www.kidnepro.com/KN/Korg/Kronos/korg-kronos-v12.html
Leave a Reply