New Kid Nepro Releases
August 15th, 2015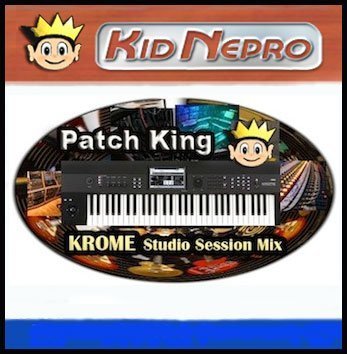 64 Programs / 16 Combis / 16 MB New Multi Samples $49. USD.
Korg Krome Volume #4 – Studio Session Mix – Kid Nepro's 4th release for Krome is now available. A great mix of new programs & combis perfect for your live gig or studio session. Krome Studio Session Mix contains 64 Programs & 16 Combis and 16 MEGS of new samples.
Krome Studio Session mix creates a powerful new sound library for musicians doing "live gigs" or "studio sessions". All sounds are programmed towards the type of sounds that you would use on a gig or a recording session. There are several new acoustic and electric pianos, strings, pads & choirs, guitars, basses and leads and a nice mix of ARPS & Drum Patterns that you can jam along with.
All sounds were programmed with the modern controls from the latest Korg workstation to bring you everything you need on your gig or session. All programs and combis include ARP and Drum Track functions as well as control assignments to the Krome Joystick, SW1 & SW2 and User Knobs 1-4. The result is the best sound with the best modern controls that will inspire you to create amazing new music.
Krome Studio Session Mix is perfect for your next studio project or live performance. Or if you just want to jam along, the cool ARP's and beats included on all Programs will have you jamming for hours!