New Kid Nepro Releases
September 30th, 2012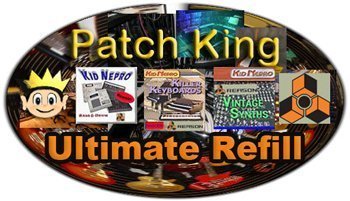 The Ultimate Refill bundle pack contains "8 Great Refills" combined into one! It includes our complete Drum & Bass, Killer Keyboards, Vintage Synthesizers 1 & 2, SP1200 Library, Electric Guitars, Wave Machine and Midi Mix Collection all in one package. Available as a Digital Download for the super low price of only $100. USD.
Over 3 GB of new samples with thousands of amazing sounds includes the best from our most popular sound collections. Over 100 new drum kits will have you creating killer beats in no time. And, Hundreds of New REX Loops with incredible beats that will jump start your tracks. Killer Keyboards, Unique Analog & Digital Synths and an all around great mix of new samples.
The Patch King Ultimate Refill is an amazing sound library with everything you will need for your next gig or studio session. All set up as Reason programs. No key mapping is needed. Just load and play!
If you already own any of our Reason Refills you can update to the Ultimate Refill for a discount rate. Please contact us for details.
One Response to "Ultimate Reason Refill Bundle Pack"
kidnepro.com » Blog Archive » Patch King Sound Libraries Bundle Packs Says:
September 30th, 2012 at 10:55 pm

[…]  Propellerheads Reason Ultimate Refill – 6 CD Bundle  $100 […]
Leave a Reply