Patch King Catalog
September 30th, 2012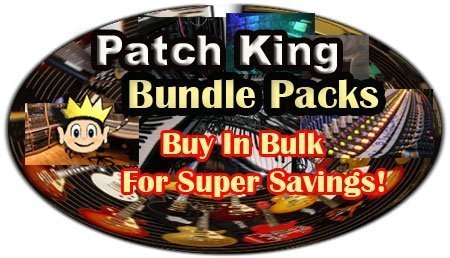 Buy in bulk and save big time. Just click on the links below and check out all our big Bundle Packs deals!
 Arturia V Collection –  Vols 1-5  $100.
 Korg Trinity & TR Rack – Vols 1-4  $85.
 Native Instruments Kontakt Sound Library – 7 CD Bundle $100.
 Propellerheads Reason Ultimate Refill – 6 CD Bundle  $100
 WAV File Collection – 9 CD Bundle Pack  $150.
 Roland JV/XP Series – Vols 1-10  $125.
Roland MKS80 Super Jupiter – Vols 1-3 $60.
 Yamaha Motif Series – Vols 1-5  $100.
If you already own any of our sounds in the above libraries you can update to the Bundle Pack at a discount rate.
Contact us for details via phone or e-mail.
Please visit our home page for complete info on all our products.
Leave a Reply