New Kid Nepro Releases
September 19th, 2018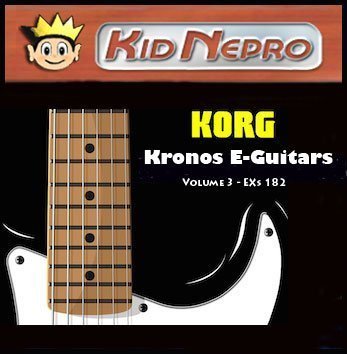 Our third collection of Electric Guitar Sounds is now available for the Korg Kronos. Sounds compatible with all Kronos models, including the Kronos Classic, Kronos X and Kronos 2.
Kid Nepro's third Electric Guitar PCG for Kronos has sampled new sounds from our Vintage "Tele" Guitar. 66 MB of new samples included. A wide mix that's perfect for your next recording session or live gig. ONLY $69. USD.
The PCG file includes 64 programs, 16 Combis and 16 Guitar Loops. A great assortment of clean guitars for light tracks or heavy overdrive leads that will have you soloing like a rock star at your next gig. There's also a several effects added to the controls, which simulates all the effects pedals that a guitar player will use on a gig or recording session.
Kronos Electric Guitars V3 is perfect for your next studio recording or live gig. Or if you just want to jam along, the cool KARMA grooves included on all Programs and Combis will have you jamming for hours.
More info, easy online ordering and sound demos at the Kid Nepro Web Site
Korg Kronos Electric Guitar V3 Info and Demos
Leave a Reply