New Sounds
No Comments »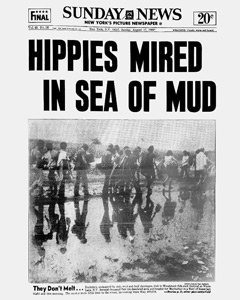 Hard to believe it's been 40 years. The original 1969 edition will be all over the air this weekend, both the music and interviews with the artists who created it.
For those who wonder how radio covered Woodstock back when it actually happened, Dennis Elsas of WFUV (90.7 FM) has dug out some archival tapes from WNEW-FM. The tapes feature Scott Muni and Rosko reading commercials for the festival, including the artist lineup, ticket prices and the important news that the concert had been moved to White Lake.
Elsas has mixed the commercials into a montage that also includes WNEW's coverage of the weekend and Elsas' interviews with Richie Havens and John Sebastian. He'll be playing this feature on his Friday afternoon show over WFUV and posting it at www.denniselsas.com.
FUV: Music by Woodstock artists all day tomorrow, with a World Café special, 2-4 p.m., that includes interviews with artists, producers and engineers.
Pete Fornatale of WFUV, who wrote a new Woodstock book, "Back to the Garden," talks with Darren DeVivo at 7:40 a.m. and 4:45 p.m. tomorrow about the festival.
Fornatale also features Woodstock on his own shows, "Mixed Bag," Saturday from 4 to 8 p.m. and Sunday from 7 to 8 a.m.
John Platt has Woodstock music and artists Sunday, 8-11 a.m.
Meanwhile, WFUV's HD2 channel and Web stream (www.wfuv.org) will play Woodstock all day Saturday and Sunday.
Sirius XM: The Deep Tracks channel, Sirius 16 and XM 40, will become Woodstock Radio from noon tomorrow through midnight Sunday.
The channel will include music from Woodstock and interviews with performers and officials from the festival. Artists will be played in the order they performed at the festival, with the complete performances of Santana, Janis Joplin, Sly & the Family Stone, Johnny Winter and Jefferson Airplane. David Hinckley
Looked around YouTube and found this cool video that has the set lists for each of the 31 bands that played that weekend. If I only had one day to choose from, I'd have to pick day two. What a day that must have been!